Patalpinta: prieš 7 mėnesiai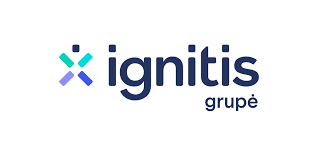 IGNITIS GROUP – one of the largest international utilities and renewable energy group of companies in the Baltic region. The companies of the Group produce, supply and distribute energy as well as operate all services required to make the world energy smart. One of its companies is Ignitis Grupės Paslaugų Centras, an internal service centre providing IT, public procurement, accounting, human resources management, legal, communication and client services to all companies of the Group. Ignitis Group received an international Top Employer 2022 Lithuania Certificate, which is awarded to companies for applying the highest HR management standards ensuring the good working conditions and development conditions.
DO YOU WANT TO BE A PART OF "IGNITIS GRUPĖS PASLAUGŲ CENTRAS"?
Ignitis Group is looking for a colleague, who would join the Solution Architect team and help take care of the in-house software development capabilities. Ignitis Group values openness, partnership is their strength, and responsibility makes them a great team. If all this speaks to you, we would like to invite you to join.
YOUR KEY AREAS OF RESPONSIBILITIES WILL BE:
Develop solution designs that meet business and technology needs, facilitate meetings with business and technology stakeholders and use analytical skills to understand business requirements and current as-is architecture
Create conceptual and logical deployment diagrams to communicate current and future state architecture
Design integrations through APIs and service-oriented architectures
Select the most appropriate technology for a problem, involving balancing architectural concerns of the project with the concerns of the enterprise
Collaborate with Enterprise Architects to ensure solution design aligns with Enterprise strategies and roadmaps
WE EXPECT THAT YOU:
Have at least 2 years of similar work experience (ex software engineer, technical analyst, integrations developer)
Understand of Application, Infrastructure and security architecture and non-functional aspects like Performance, Scalability, Reliability, Availability of a system
Know background in systems software development utilizing multiple modern technologies and design patterns
Have knowledge of Data Warehouse building principles, including data modelling
Have experience building and optimizing streaming, data pipelines, architectures and data sets
Have knowledge of integration message brokers
BONUS POINTS FOR:
Work experience and knowledge of Power BI report development
.NET or any other similar language programming skills
Have experience with visual modeling tools such as MagicDraw and Unified Modeling Language (UML)
Have experience with Agile & DevSecOps methodologies
TOGAF Knowledge desired
AS A PART OF THE TEAM YOU:
Receive salary in the range of 2561 to 4389 EUR (before taxes). The final offer depends on experience and competence. Variable part of remuneration may be paid depending on results
Your knowledge and experience will contribute towards developing long-term energy projects of national importance
Will have an opportunity to take up unique challenges specific to the energy sector together with a team of professionals
Will have an opportunity to work with the newest technologies
Will not only be able to observe how innovations come to life, but also initiate changes yourself by contributing your knowledge and experience towards creating an Energy Smart world
Will receive benefits package (health insurance/pension plan, flexible work time, etc.)
If you are interested in this opportunity, contact Ramunė Stasiūnaitė from People Link via LinkedIn or send your resume to ramune@peoplelink.lt. Confidentiality is guaranteed. Only selected candidates will be informed.